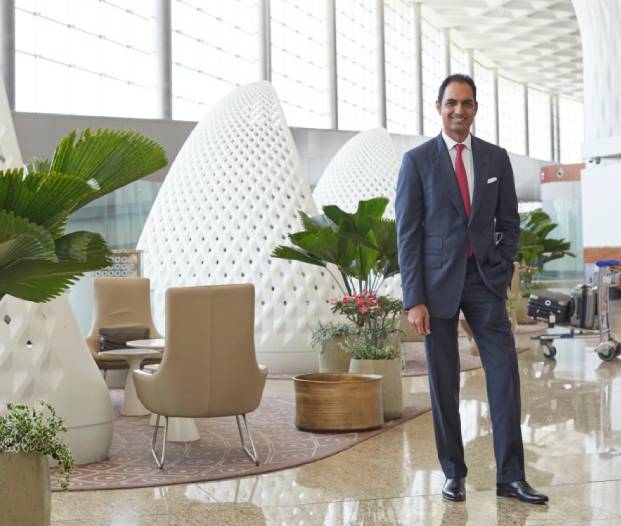 Sanjay is a promoter and Vice Chairman of GVK (www.gvk.com), a business conglomerate based in India, prevalent in several business sectors such as, energy, airports, hospitality, transportation, real estate, pharmaceuticals and technology. GVK has invested over USD 5 Billion during the last 20 years into various businesses.
GVK established India's first private power plant in 1996, India's first 6-lane toll road project in Rajasthan in 2004 and India's first private airport project in Mumbai in 2006. GVK won numerous awards and recognition for its stellar work in all sectors and in particular the GVK Mumbai airport which has been winning the world's best airport award for the last 4 years in a row. He founded two companies Aragen Lifesciences (www.aragen.com) which is into pharmaceutical services and Excelra Knowledge Solutions (www.excelra.com) which is a data and analytics company which are businesses of the future. As a part of his family office, he invested in more than 20 start-ups in tech space across different sectors in Series A rounds. These investments are in the US, India, Africa and South East Asia. GVK employs more than 20,000 people in various businesses and has been known for its contribution to society and the country.
In addition to business, GVK is also actively involved in philanthropic activities and GVK Foundation which is our not-for-profit organisation runs GVK EMRI, the world's largest ambulance service, offering the services free of cost to over 800 million people in India, with around 13,000 ambulances and 50,000 employees. GVK EMRI everyday handles over 200,000 calls, 30,000 emergencies and everyday saves on average around 1000 lives and gives birth to 300 babies in our ambulances. Since inception in 2007, GVK EMRI saved over 2.5 million lives. In addition to our ambulance service GVK takes up a number of activities across education and healthcare for the benefit of the community.
In recognition of his career accomplishments, Sanjay was declared Young Global Leader by the World Economic Forum, 2007, Business Achiever of the Year awarded by India Leadership Conclave 2009 and Emerging Business Leader of the Year by All India Management Association, 2011. Sanjay is proud to have been the commencement speaker at both his alma-mater, University of Michigan in 2015 and Purdue University in 2016. He has been recognised in 2021 as an Outstanding Industrial Engineering Alumnus by Purdue University.
A more detailed profile is attached.
Work
2009 to Present – Vice Chairman GVK Power & Infrastructure (www.gvk.com)
Leads GVK's businesses in key areas of infrastructure such as Airports, Energy and Transportation that are vital for India to fulfill its tremendous potential and economic development.
2006 to 2021– Managing Director Mumbai International Airport
(www.csia.in)
Lead the transformation of the Mumbai airport, which is one of the most challenging airport modernization projects in the world. Was instrumental in developing Terminal 2, which is now considered as one of the best airport terminals in the world.
2008 to 2017 – Managing Director Bengaluru International Airport
(www.bengaluruairport.com)
Spearheaded the development of the Kempegowda International Airport, Bengaluru as a Gateway to South India. Designed the new Terminal 2 as the World's First Garden Terminal which will open soon.
2001 to 2010 – Managing Director | 2010 to Present – Vice Chairman Aragen Lifesciences
(www.aragen.com)
Founded Aragen, one of Asia's largest pharmaceutical services companies, which employs more than 2500 scientists. Aragen offers support to various research and development organizations of top pharma and biotech companies in the world.
2009 to Present – Vice Chairman GVK Emergency Management and Research Institute
(www.emri.in)
Involved in GVK EMRI, the world's largest ambulance service offered free of cost to over 800 million people across India and having saved more than 2.5 million lives until date. GVK EMRI is a not for profit organization.
Education
1984 to 1987 – Bachelor ofIndustrial Engineering
Purdue University,West Lafayette, USA
1987 to 1989 – Master of Business Administration (Finance &
CorporateStrategy)
University of Michigan,AnnArbor, USA
He holds a Bachelor's Degree in Industrial Engineering from Purdue University, MBA from University of Michigan, Ann Arbor and SEP from Stanford University.
Leadership
Chairman ofAssociation of PrivateAirport Operators (APAO)(www.apaoindia.com) (2019 – 2021)
Founder Chairman of Young Indians, Confederation of Indian Industry (www.youngindians.net)
Trustee of the Jagdish and Kamala Mittal Museum of Indian Art
Member, Young Presidents' Organization (YPO) & Chief Executives Organization (CEO)
Chairman of the University of Michigan India Advisory Board (2020)
Member of the Purdue-India Executive Council
Charter Member, TiE Silicon Valley
Recognition
Young Global Leader of the Year awarded by the WorldEconomicForum (2007)
Business Achiever of the Year awarded by India Leadership Conclave (2009)
Emerging Business Leader of the Year awarded by the All India Management Association (2011)
Traveller Excellence Award for the Year awarded by CondéNast Traveller (2014)
Creating the landmark iconic New Mumbai Airport T2Award for theYear awarded by CNBC (2015)
Game ChangerAward for the Year awarded by India TravelAwards (2015)
Conferred the Outstanding Industrial Engineering Alumnus award by Purdue University (2021)
Interests
Indian Art | Design | Running | Adventure Sports | Reading | Philanthropy | Golf